Yay, a blog hop!
Today's blog hope features 5 questions to answer this Friday.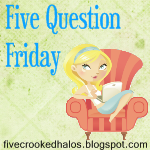 So I invite everyone to join me and other bloggy-friends to share a little bit about yourself today.
1. What do you do when you are really upset to calm yourself down?
Honestly? Take my anti-anxiety medication and watch Monk. =)
2. Do you go all out for V-day or is it just another day?
It's just another day. I really dislike V-day, and I avoid doing anything V-day related for it.

3. Are you more or less productive when Hubs is away?
Definitely more productive when it comes to house cleaning. I'm not sure what it is. It's like the bear's out of the cave, so I can go to town on everything!
4. What is your favorite time of day and why?
3-4 PM. I think because I really like the way the sunlight looks around that time of day. The day is almost dwindling down, but there is still plenty of time to do something. Its just a magic hour for me. :)Also, the best nap time.
5. What is your go to karaoke song?
Pretty much anything, really. I love to sing. So, anything I know the lyrics to will work for me. :D