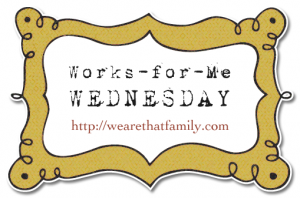 When I was little, I remember reading this book - it was about these families in Ukraine, during WWII. There was a scene, where a mother and her children were sitting down to dinner. Food was scarce for months, they were practically starving. Yes, the mother pulled out a freshly-made rice pudding.
The children were amazed and asked the mother - where did you find rice?! We ate the last of it just last week!
And the mother admitted, that every-time they had rice for dinner (which was pretty much ALL they had for weeks on end), out of every pile she would take 10 grains of rice and put them aside. Just 10 grains - it did not made a difference for the meal at the time. 10 grains won't really fill anyone up.
But over time, those 10 grains, plus 10 more, then 10 more, started adding up, until she had enough to treat her children to some rice pudding.
I've always remembered that story, and try to do the same with various things in my household. If I have a box of something, I sometime will take just a couple of it out and put aside. A new box of tampons? Put a couple aside. A full box of Q-tips? 2 - aside. And so on, and so on. After a while, you end up with a stack of emergency things - when you are low on cash, its a nice little boon. I know that must sound insane, but I grew up watching my grandmother do the same. My grandmother was just a kid when WW2 began, but the hunger and the need that she had experienced have stuck with her for the rest of her life. She sure knows how to be frugal!
I try to do the same with money - if I have it, just put away a couple dollars on the side. Something I won't really miss. It's kind of like saving the pennies, I suppose, only I actually end up doing something with the dollars. Pennies are still sitting in the jar in my kitchen.
Anyway, this method of "found items" works for me, hopefully it will work for you!